ABOUT GRANDMASTER
JOHN S.S. LEONG
Grandmaster John S.S. Leong (梁崇, b. 1937), originally from Guangdong Province in China, began his Kung Fu training at the age of 12. He later studied Hung Gar Kung Fu in Hong Kong under the late Great Grandmaster Wong Lei (王利). Grandmaster Leong began teaching in Seattle in 1963 and established the Seattle Kung Fu Club, where he continues to pass on the tradition of Hung Gar Kung Fu.
Throughout the Seattle Kung Fu Club's history, Sifu Leong has emphasized the discipline, morality, honor, and respect which characterize Hung Gar Kung Fu. When one enters the school, it is as though one has stepped into another time and place. Students treat each other as an extended family where they are referred to as older brothers and sisters.
Over the years, the Seattle Kung Fu Club has emphasized the importance of reaching out to the community to share the Chinese culture through exclusive Martial Arts demonstrations and large scale exhibitions. As early as 1968, Grandmaster Leong began building the school's reputation by hosting annual Kung Fu events that have delighted thousands of spectators and has attracted world-renowned martial arts experts and famous special guests from around the world. Proceeds for all of these special events have always been donated to charitable organizations and worthy causes dear to Grandmaster Leong.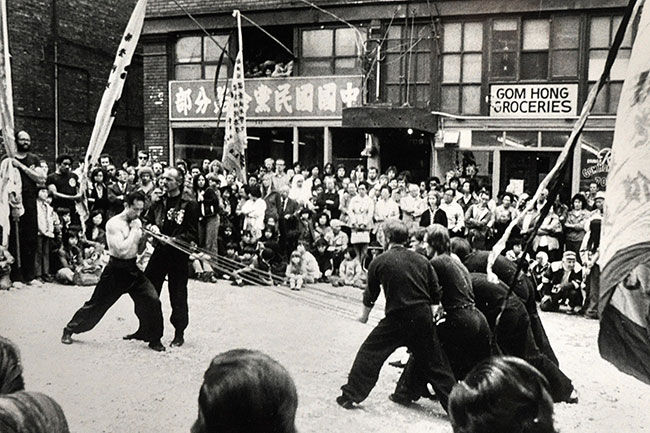 Grandmaster Leong has always maintained and cherished his connections to the martial arts in China. In 1990, he led a group of students to the Shaolin Temple where the head Shaolin Monks made Grandmaster Leong their honorary advisor. Soon after, he organized the legendary 1992 U.S. Shaolin Kung Fu Monks Tour, the first time the monks from the Shaolin Temple had ever performed outside of their home country.
Grandmaster Leong has been featured and profiled on numerous magazine covers and articles, including being named Man of the Year and Humanitarian of the Year by Inside Kung Fu Magazine. He has also contributed his expertise to many martial arts publications around the world, including Real Kung Fu, Inside Kung Fu, and New Martial Hero Magazine. In 1984, Grandmaster Leong authored a book called Beginning Shaolin Hung Gar Kung Fu that elaborates on the history of the style and details basic exercises, stances, strikes, kicks, and form sequences. To commemorate his 80th birthday in 2017, the historical photo book Living Kung Fu was published.
Today, Grandmaster Leong continues to represent the consummate example of humility, honor, and respect which underlies the practice of the martial arts. As a dedicated humanitarian, Grandmaster Leong passes down the knowledge, discipline, and positive ways he has acquired through years of continuous training and experience. In this spirit, his students at the Seattle Kung Fu Club and students around the world are inspired to follow his incomparable example by respecting oneself along with others, while living a healthy and fulfilling life.
---
For information call:
(206) 624-3838
656½ South King Street
Seattle, WA 98104
Directions »

It is man that makes truth great,
not truth that makes man great.
—Confucius
© Seattle Kung Fu Club